1881/2006 Cadmium and lead level in food
Watch out : Adjusted  levels of  cadmium and lead in food!
To reduce carcinogens in food, there will be lower, permissible maximum levels for cadmium and lead in various foods including those for babies, vegetables and fruits.
Brussels justifies the decision because lower levels of heavy metals in foods reduces the risk of cancer. The limits for lead go down on August 30, those for cadmium a day later. ,,We know that an unhealthy diet increases the risk of cancer. With our decision today to make a range of foods safer and healthier, we are putting consumers first," said European Commissioner for Health and Food Safety Stella Kyriakides.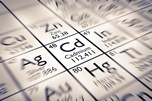 The European Union is therefore setting new maximum cadmium (Cd) and lead (Pb) limits for foods. It also extends the applicability of the legislation to different foods. The legislation indicates that for foods ("foodstuffs") that are already legally in free circulation as of the effective date of the legislation, a phase-out period applies until 22-2-2022.
In the ANNEX of the legislation are the new Cadmium standards
In the ANNEX of the legislation are the new Lead standards
 TLR analyzes heavy metals with the ICP-MS method
In the inorganic department at TLR we now have 3 ICP-MS instruments active and we analyze a large part of the elements, including heavy metals such as cadmium. In the sample pre-processing the metals are removed from the sample with acid and high temperature in a special microwave oven. This process is called destruction. The sample is destructed (broken) so that the heavy metals are released. Then we measure the presence and concentration of the released metals with the ICP-MS. At TLR, the price of a metal measurement naturally includes this necessary pre-processing.
Interested in our element analyses? Send an email to contact@tlr.nl  and ask about the possibilities:
| | | |
| --- | --- | --- |
| Al (Aluminium) | Fe (Iron) | P (Phosphor) |
| Ba (Barium) | Hg (Mercury) | Pb (Lead) |
| Be (Beryllium) | I (iodine) | S (Sulfur) |
| Ca (Calcium) | K (Potassium) | Se (Selenium) |
| Cd (Cadmium) | Mg (Magnesium) | Sn (Tin) |
| Cl (Chlorine) | Mn (Manganese) | Sr (Strontium) |
| Co (Cobalt) | Mo (Molybdenum) | Ti (Titane) |
| Cr (Chromium) | Na (Sodium) | V (Vanadium) |
| Cu (Copper) | Ni (Nickel) | Zn (Zinc) |